My favorite tool for getting organized, focused, and purposeful with your new online business
You know how sometimes a wonderful life-improving game-changer comes your way?
That's what happened to me when I ordered my first Full Focus Planner from Michael Hyatt.
Prior to getting on board with the planner, I would keep standard issue notebooks of lists, used in combination with a large format calendar notebook, and a Google calendar electronic component.
The main problem with my old system was I had to prioritize my to-do's on-the-fly, that day, as opposed to to being thoughtful about the priorities for the day, week, month, or quarter. The Full Focus Planner has this prioritization system built in. The second big problem was my lists were simply in too many places!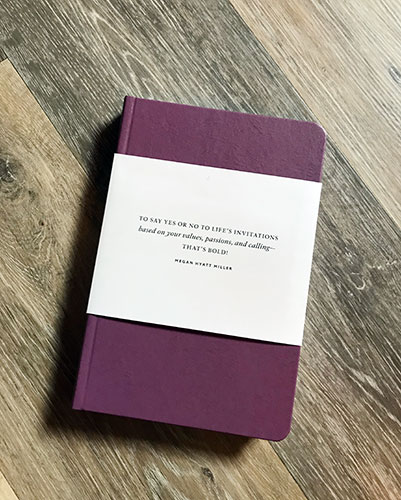 What makes this planner so special?
1. SPACE: There is plenty of room for every to-do, note, and calendar items.
With previous planners, I've never had enough room to write everything down, so I ended up needing a second notebook in addition to the planner, which is obviously not efficient and leads to too many systems, which is totally inefficient.
2. Goals
Every career and life coach will encourage you to have goals, and we all know they're important, but how many of us actually set super clear weekly, monthly, quarterly, and annual goals?
We often get mired up in our lengthy to-do lists and forget about the goals that checking off those to do's ultimately accomplish. I am a huge fan of getting the goals on paper!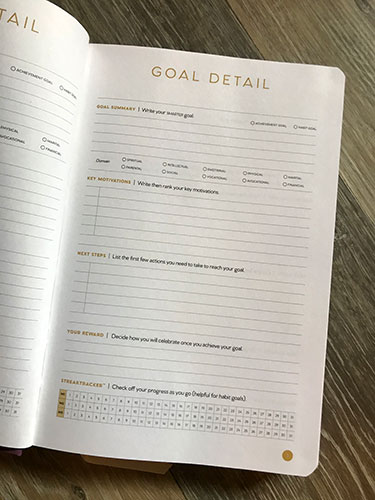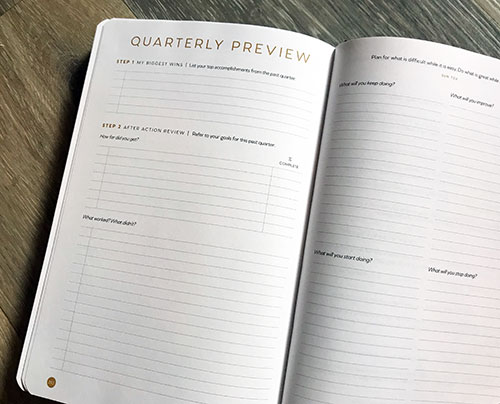 3. Daily Big 3
This is my favorite. Get your daily to-do's together and then break them down so that you have three key things to do. You can do this with any system, obviously, but having it super clear and right in front of you is really helpful.
For you people who (like me) tend to give yourself miles-long lists, you get to feel that addictive sense of accomplishment when you check off these three, relegating to the other tasks to "extra credit." Lots of winning here when you check off three big things and maybe get a couple of extra credit points.
4. Separation of to-dos and easily viewable daily schedule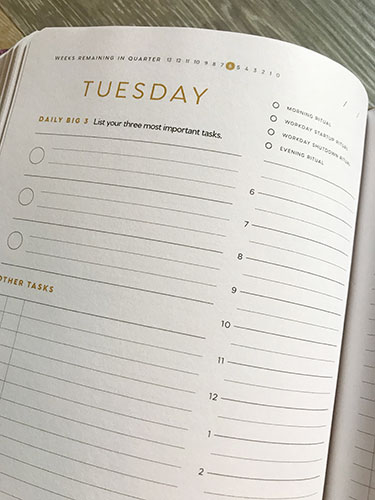 5. Lots and lots of room for notes!
Each day has a single page dedicated to notes, and there is also a section in the back of the planner for additional notes and even sketches.
I really love my digital helpers, but for my to-dos, I really need a physical, written system.
I know some people love digital organizers, but I really need something physical that I can write on.
The act of writing keeps me more focused and allows me to better process and assess my tasks and goals.
And is there anything better than being able to cross off an accomplishment?
When I first started using this planner, I had one complaint … but then they fixed that, too!
I have had several of the planners shown above, and my only complaint was that it didn't stay open very well, although it does have a bookmark. Michael Hyatt read my mind in designing this new and improved version, which is spiral bound and lies flat!
I have a blue one on order, and they also come in olive and black.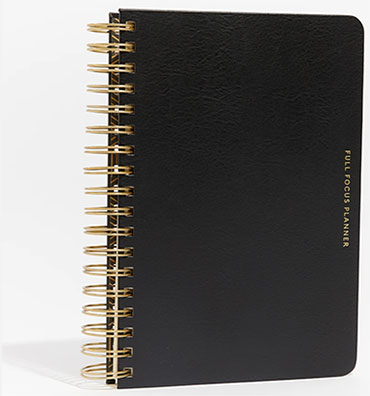 Check out the entire line of full focus planners here, including new student planners:
*This post may contain affiliate links. I receive a small amount of compensation when you purchase from my links, which I'll totally blow on limes, mint, and rum.